I feel a little like a VIP this evening. We were given instructions to call a phone number at three o'clock on the dot in order to make reservations at an exclusive hidden bar in the city.
We got on the list and were given an address for the bar. The address sent us to a telephone booth in which you pick up the phone, dial a number and, when the back of the phone booth opens you are then allowed into an exclusive cocktail bar.
The most delightful cocktails have ensued. It's been too dark for photos, but trust me, you'll want to be a part of the cocktail revolution the next time you're in NYC.
Other than drinks we've had adventures all day. We started out looking for the Christmas tree at Rockefeller Plaza. It was the only thing I wanted to see this weekend. What do you think we found when we got there?
The giant tree being hacked to bits and carted away. It was shining proud yesterday on the Today Show and today it was no more.
After that we did a bit of shopping, eating, and art viewing at the Whitney Museum.
Dumplings and soup at Rickshaws- my favorite speedy Dumpling bar.
And then dinner at The Green Table, a farm to table restaurant in the Chelsea Market. (also we saw Ira Glass playing with his dog in a park on the way to dinner!!!)
Mac & cheese
Bryan's curried winter squash soup
My vegan polenta- veggie plate
Bryan's flank steak
Elizabeth's mushroom pot pie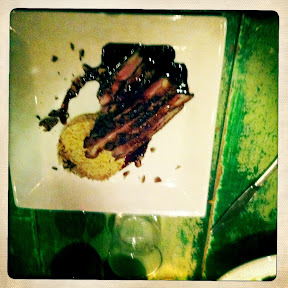 Erick's roasted duck jambalaya.
And the fresh veggie-hummus plate.
What a yummy day!
What will we do tomorrow?! Hooray hooray!