We cashed in my free Craigie brunch today!
Amazing. It always is.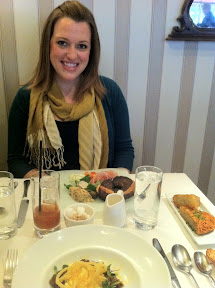 Bryan had a 'northern lights' cocktail, beef tongue & cheek hash with onion rings and a coddled egg, a house made doughnut, and an apple financier cake with caramel ice cream!
I had a bloody mary (the most delicious one I've ever had- with pepper gin and a tobasco-habanero marinated celery stick), fresh fruit and yogurt, a poppy seed bagel with trout rillette and salmon and roe and cream cheese, and sour milk panna cotta.
They also brought us potato galette on the house and thanked us for coming in often!
So yummy!!
Also, just to clear up any confusion about yesterday's post- I don't love love love to run (yet) (I enjoy it and the farther I go the better I feel but love is a strong word). In fact for the first two miles of EVERY run I feel like I have made a terrible choice to run a half marathon and that I might die and that if I don't stop immediately and apologize to my legs that they might decide to leave my body- just fall right off...
So rather than complain to Bryan, because he doesn't want to hear it and not to mention the fact that I don't want to be 'A Complainer,' I count.
Yep, numbers. It's calming and forces me to focus on something else (please, God, anything else) than running. Running is all in my head and I used to listen when my body said "STOP! What are you doing to me?!?!"
But now I count. I make up little jingles to go with the numbers and change up how high I count every few minutes so that I never get bored. It works like a charm! It probably wouldn't work for everyone but the point is "you can do it too!" figure out how to calm yourself and relax and then just keep going!
One doo doo do da doot da doo doo, Two doo doo...